We had the pleasure of taking part in our very first  virtual awards ceremony today and not only did we win in the category 'Flooring in community venues & public spaces' CFJ Awards 2020, we also placed third in the overall project winners' group!
Our top placing in the 'Flooring in community venues & public spaces' was awarded for the project we completed with TG Beighton using Tarkett and Tremco products at St Wilfred's Church in Cantley, Doncaster last autumn.
About the project
Tarkett had been approached by the church and an architect who had presented them with a labyrinth design for 84m2 of floor in the North Isle. Both parties wanted to know if a) the design could be produced and b) if so, who would Tarkett recommend for the installation?"
We were delighted when Tarkett recommended us and we also included in the scheme the removal of several pews and the construction of new storage area which we invited T G Beighton Ltd. to work on for us.
The first stage of the project was to uplift and remove the existing carpet tiles and pews and then to construct the storage area. Once these elements were completed, we delivered the Tarkett Veneto XF to site so the material could acclimatise to the conditions in the church.
The team then commenced with the preparation of the existing substrate in the North Isle using Tremco SX300NA smoothing compound which was applied 3-4mm thick. We then applied the first coat of smoothing compound to the 14 m2 nave area which was a mixture of existing concrete and stone.
Once the smoothing compound had cured, we applied Tremco ES100 DPM to the nave area and, once the DPM had cured, we added a final coat of Tremco SX300NA.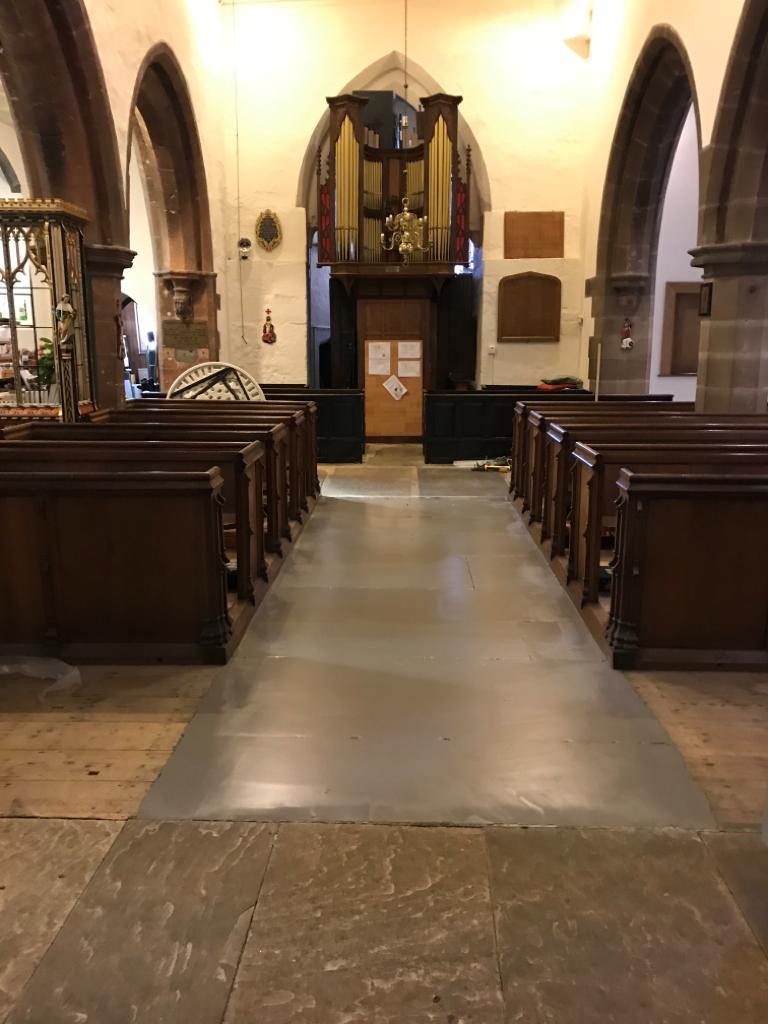 The next task was to lay the actual Tarkett Veneto XF linoleum. One of the most natural and sustainable flooring solutions on the market, it is made from 94% natural raw materials and is extremely durable, easy to clean and maintain making it ideal for this particular project.
Working closely with the design team at Tarkett, the labyrinth was supplied in pre-cut pieces that we then fitted together on site to create a visually stunning centrepiece. It has real significance with churchgoers since it represents the arduous, and often dangerous, journey that was made to the holy land during medieval times.
We also added solid brass antique trims around a manhole cover to enable easy identification and access.
Commenting on the project, Jeff Nadin, church warden for St Wilfrid's said: "At the initial tender site visit, we were impressed with the suggestions offered as to how we could undertake some of the more difficult requirements, ensuring that the new works would fully integrate with existing untreated floor finishes.
"This not only added value to our overall planning, it demonstrated that we were dealing with people who had 'hands-on' practical experience, thereby increasing our levels of confidence in entrusting Cumberlidge to undertake a major reorganisation of our Church.
"This professionalism was maintained throughout the installation program which itself was arranged to accommodate our weekday services and provided us with a striking finished floor that has been well received and complemented on by both our congregation and visitors.
"We now not only have a wonderful, flexible space with a first-class modern floor, but, thanks to our architect John Cunnington, Tarkett and Cumberlidge we have with our labyrinth an excellent teaching tool and the ability to introduce alternative 'in the round' services to assist us to further grow our Church. Our thanks go to all who contributed to this project."
We were also finalists in the 'Flooring in healthcare' category for one of our many projects with Tarkett at the Northern General Hospital in Sheffield.
Congratulations to all the winners and finalists, it was a privilege to be amongst such excellent competition – we have a flooring industry to be extremely proud of here in the UK and we're proud to play a part in its continued success.
Finally, huge thanks to David Strydom and all the team at CFJ for a fantastic event and the brilliant awards celebratory hampers, what a great idea. We loved John Parrot's role as MC too, and those tricks shots, wow! Something to practise next time we're near a snooker table…